I rode the Tour de Max on Sunday with some folks from bikeforums.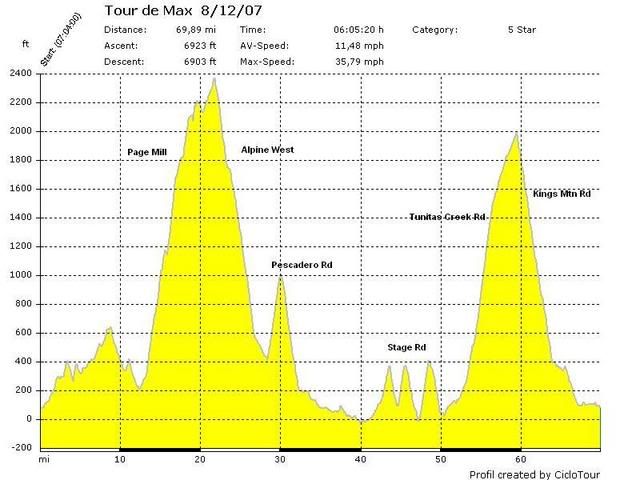 We started from Menlo Park, up Sand Hill to Portola Road (where the group promptly dropped me), down Alpine and over Arastradero. I take a long time to warm up so I figured it was no use trying to keep up with them this early on.

There was a rest stop on Arastradero but by then I was finally warmed up and feeling human so I didn't bother to stop. Then up Page Mill, oy. I stopped at the rest stop on top of Page Mill and the rest of the group joined up with me about then - come to find out they had stopped at Arastradero :D

The descent down Alpine West was a bit dicey with the gravel still on the road from the recent chipsealing. Past the chipsealed part the road was narrow, extremely bumpy and very windey with lots of steep sharp turns, which made it not particularly fun. It was pretty exhausing and I was looking forward to that descent being over, which says a lot.

A bunch of us climbed together up Haskins Hill on Pescadero Road which was nice. I really enjoyed the descent down Pescadero Road until I got stuck behind a car with a *very* timid driver who rode his/her brakes for almost the entire way down the rest of the hill, and there was no way I could pass. How *dare* that rotten person deprive me of my well-earned descent! grrrr.

Stage Road was nice but a bit windy. The view of the cliffs as we descended Highway 1 to Tunitas Creek was spectacular today. We were all spread out by the time we reached Highway 1 so I assumed I wouldn't see any of our group again until I reached the finish.

Let me just say here and now that the climb up Tunitas Creek Road *sucks*. The road surface is the worst and the middle part of the climb where it kicks up to 10% is a bear. Now, that said, its nice & shady almost all the way up and you have the lovely sound of Tunitas Creek to serenade you if you can hear it over your rasping breathing. (At least I didn't need to walk up this stinker, unlike the last time I rode up it 2 years ago on that epic Labor Day weekend ride with Veronica & Thom where my legs basically gave up the ghost.) I did end up stopping for a couple of minutes for a breather after most of the steep section was past, which helped a lot. Soon after I started up again I encountered Ron from the bf group, who had stopped for a much longer breather, which is how I managed to catch up with him. Soon after that we reached the mini-rest stop near the top where we each had a can of Coke which really hit the spot.

A guy pulled up during that time and complimented me on my Brooks saddle and my Randonnuers of China jersey. He was wearing a PBP 2003 jersey, and we struck up a conversation about randonneuring. Come to find out he was Ken Shoemaker, a frequent poster on the Randon list. He's leaving for France this Thursday for this year's PBP.

At this point Ron & I were on the much shallower grade a couple of miles from the top so the rest of Tunitas went by quickly, and then we were treated to the lovely descent down Kings Mtn into Woodside and the shorter but still lovely descent down 84 to Redwood City, where we hung a right on Alameda de las Pulgas and powered it (be that as it may) back to the school in Menlo Park.

It was good ride, tough but somehow not as draining and the Mt. Tam ride last week, although it had a bit more climbing overall. A new pb for climbing, woo woo.

I might do this route starting from home next time which would add on about 30 miles or so. But instead of the Alpine Road descent I'd head north on Skyline to 84, then west down 84 past La Honda, then hang a left onto Pescadero Road.